More replacement airbags than anyone in the industry.
If you are looking for an airbag - we are the leading supplier of CLASS A used airbag parts.
Become a member and instantly find the cost of replacing your car airbags.
Is your airbag light on? Ask a representative about our airbag module repair service.
We carry Honda airbag parts for Accord * Civic * CRV * Element * Pilot and many others.
If you are going to be used airbag parts why not buy them from a reliable airbag expert.
You have no items in your shopping cart.
Consumer Information Guide
Knee Bolster Airbags
Quick Reference Links
Knee Bolster Airbags
Knee Airbags:
The knee airbag, also known as the knee bolster, was designed to reduce the lower limb loads on impact. Although limb injuries are not fatal the knee airbag has proven to reduce severe injuries to the lower extremities on impact with the dash board. Although, knee airbags are found mostly on high end luxury models they are slowly becoming common place on some mid level models as well.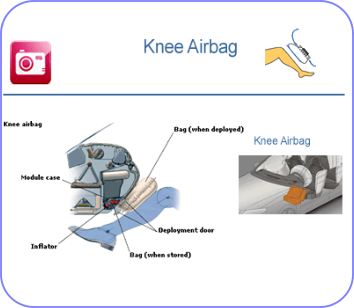 Knee Bolster Airbags Types:
Knee Airbag Types:
The knee airbag, located below the steering column, is readily available on luxury models or vehicles that are fully loaded. Some bolster airbags are designed to protect both the knee and foot. The knee airbag is a supplement to the seat belt tensioners and assist as additional protection to the driver.