Welcome to the Airbag Center
we are the largest North American distributors of car airbags online.
You have no items in your shopping cart.
Find the location of your airbag module
Module Location
We have not documented the module location of this vehicle yet, however, you can Send us an Email and we will be happy to reply with the location if we know it. Click on the 'Request Location' button to inform a technician.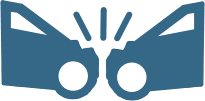 Did you find everything you're looking for?


If not, check the items you're looking for and we will send you pricing by email.
Search
No products were found that matched your search. However,you can select the items using the check boxes to request pricing and availability.