More replacement airbags than anyone in the industry.
If you are looking for an airbag - we are the leading supplier of CLASS A used airbag parts.
Become a member and instantly find the cost of replacing your car airbags.
Is your airbag light on? Ask a representative about our airbag module repair service.
We carry Honda airbag parts for Accord * Civic * CRV * Element * Pilot and many others.
If you are going to be used airbag parts why not buy them from a reliable airbag expert.
You have no items in your shopping cart.
Consumer Information Guide
Find the location of your airbag module
Module Location
We have not documented the module location of this vehicle yet, however, you can Send us an Email and we will be happy to reply with the location if we know it. Click on the 'Request Location' button to inform a technician.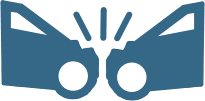 Did you find everything you're looking for?


If not, check the items you're looking for and we will send you pricing by email.